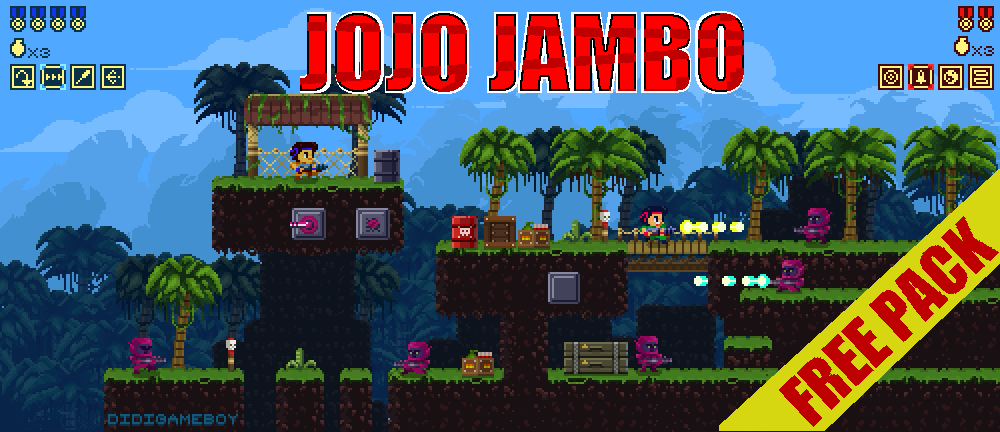 Jambo Jungle Free Sprites Asset Pack
A downloadable asset pack
James John Jambo Jungle Sprite Pack.
(free)
play the demo here https://didigameboy.itch.io/jojo-jambo-demo
I'll be making some graphics and gamemaker source code to help you getting started in gamedev so stay tuned, UPDATES are coming with a lot more(code, graphics and audio).

Try this free pack and tell me if I'm generous or miser, cute but violent, tiny but explosive, I made it with a lot of effort and dedication.

Don't forget to play the demo(soon) and see what can be done with it.

This is a tiny pixelart tileset,
Updates:
Player hit-hurt and defeated
Enemy hit-hurt and defeated
Two Explosions
Also if you can favorite this pack at https://opengameart.org/conten...
I really apreciate <3.
enjoy.
Download
Click download now to get access to the following files:
Jojo Jungle Pack v4.0.zip
513 kB
Comments
Log in with itch.io to leave a comment.
Sensacional. Parabéns pelo trabalho!
Why did you create an account just to comment it? Did you read the updates or simply played? Good bye!
Hi, will you release the source code for the demo as promised? Also are you still working on this wonderful art pack?
hii, i really like the graphics that you used in demo game. I am just wondering if you are still working on it?
hey thanks! Stopped a while to making assets, sprites and code for jojo coz had to work on comissions and other projects, but who knows..
ok. actually I am an individual game developer. as I liked the assets, would u mind me working on this game to finish it. i mean i can pay for the assets if u want.
You can send me a proposal to gameboydidi@gmail.com or a message on my twitter so we can discuss if you want to continue this project.
I want to create a game project using this asset, my project need file .plist for spritesheet and i don't see it in downloaded file.

can you share it,I can pay for the full asset if you want. my email: khangthk@gmail.com
well I didn't create a .plist, are you suer you cant generate it? I made this with gamemaker 1 so Idk how to produce one here if not by hand..
Nice work.
Any License? Is it okay to re-distribute it ?
Thank you! Making a demo with updates soon! <3
Would you mind if i modify some of the sprites and add them to my little game?
I will of course give appropriate credit. :)
Oh cool, no prob! hit me when you do it!